Thank you very much for your interest in collaborating with State Forty Eight.
If you're looking for a unique way to fundraise or market your organization, let us help you create a design that will have lasting impact on your community.
To streamline the process, below is an overview of how our collaborations typically work and what you can expect.
Collaboration Testimonials
Project Timeline
Help us Determine a Deadline for the Design Project Completion.
Set Design Goals
Have a Clear Understanding of your Objective for the Collaboration.
Review Pricing
Please note that any Collaboration Design requires a minimum order of 50 shirts.
First, We will need you to provide us with any .ai or .eps files of any image or logo you would like incorporated into the design.
In order to create the design of your choice, we ask if you can provide any of the following: branding guidelines, pantone colors of your logo, social media channels, website and any specific direction you would like to see us take.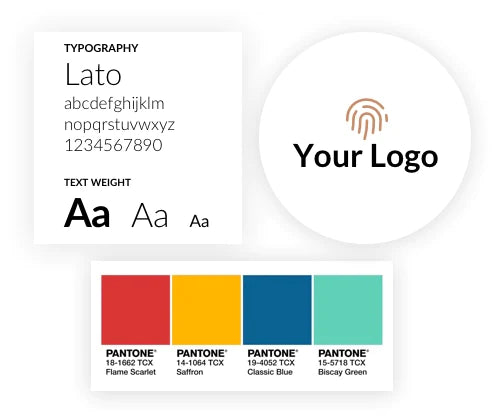 Next, our designers will work on 2-4 concepts to present to you which includes up to 2 revisions. For any additional revision requests, there will be $250 design fee to accommodate design time. Once we have your approval, we will process your order.
Production time can range from 7-14 business days once you give us the green light on a design and we receive your sizing requests.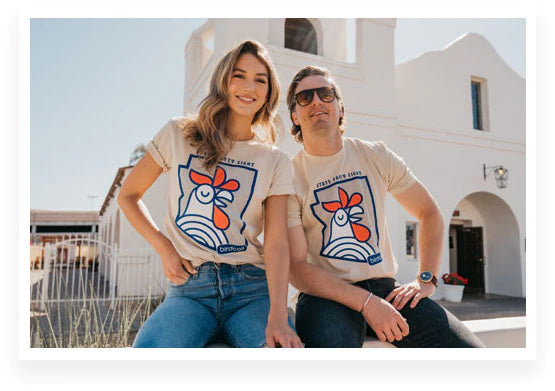 Last, we will deliver or coordinate a pickup of the shirts based on your preference.
Allowing us to create design concepts for you serves as your commitment to placing an order. Should we create designs and an order is not placed, we will charge a $250 fee to compensate for design time.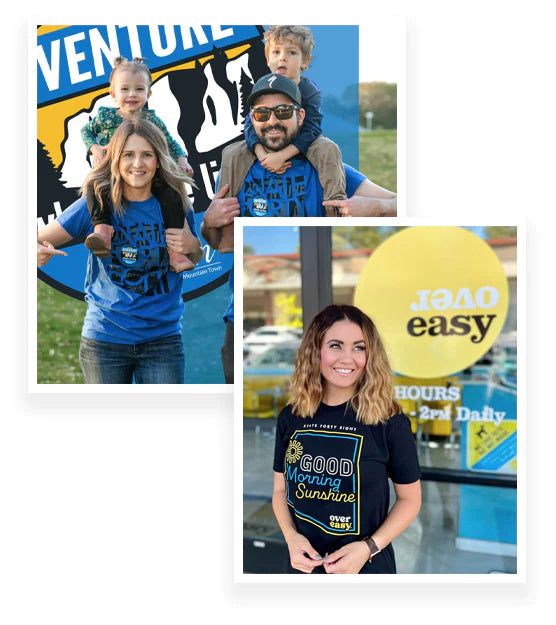 SHIRT PRICING
$1 from every collaboration t-shirt goes to support the State Forty Eight Foundation and our mission to drive local innovation and inspire community action through the support and empowerment of Arizona entrepreneurs and its nonprofit organizations.
Find out more at: www.statefortyeightfoundation.org
50 - 99 shirts
$22 per shirt
100 - 250 shirts
$17 per shirt
251 - 499 shirts
$15 per shirt
500+ shirts
$12 per shirt
2XL & 3XL styles are $1 more per shirt.
SHIRT STYLES
Your order may include multiple shirt styles, however an order of at least 12 per style is required.
Men's
Crew Neck
(XS - 3XL)
Women's
Crew Neck
(S - 2XL)
Women's
Tank Top
(S - 2XL)
Hats
$25 Per Hat
Minimum of 30
Stickers
(3x2") $1.50 Per Sticker
Minimum of 100
Cornhole Board
$325 Per Set, Built by
AZ Board Source
Drinkware
$32 Per Bottle
Minimum of 30
If you plan to post to social, we ask that you please tag us using the handle @StateFortyEight.
We always support our partners and will promote the collaboration design on our social media channels.
All reorders must be a minimum of 50 shirts, but re-orders of 100 or more shirts will keep the original price per shirt.
LOOKING TO COLLABORATE WITH STATE FORTY EIGHT?
Contact our team to begin your next project!